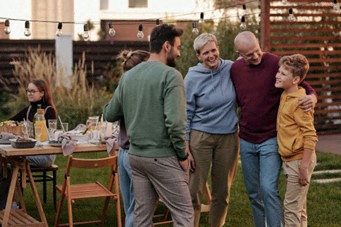 With Halloween behind us, the holiday season is officially here! If you're planning on hosting a holiday get-together in your Morado Plano apartment home, follow these tricks and tips for being the hostess with the mostess.
Our first tip is to prepare as much food as possible ahead of time, this allows you to spend more time with your guests once they arrive. If you can't prepare the entire dish ahead of time, make your life easier by getting all the chopping taken care of or using ready-to-cook ingredients.
Keep your pantry well stocked with your guest's favorite dry goods such as cereal and crackers. This way, you won't feel pressured to cook every single meal. This goes for beverages too. Make sure to stock up on your guest's favorite beer, wine, or sodas ahead of their arrival.
Skip the fancy plates and silverware and opt for paper plates and plastic utensils. No, it's not the most glamorous but this allows you to spend more time making memories with your guests and less time in the kitchen cleaning up after a meal.
Turn your Thanksgiving dinner into a potluck, this allows you as the host to enjoy more time with loved ones and less time stressed out about preparing the perfect meal. Assign each of your guests a dish to bring, including appetizers, main entrees, and desserts.
Send you guests home with leftovers. After you've finished you meal, hand each guest a Tupperware container to fill with all the leftovers they want. Not only will you not be burdened with 5 days of turkey to eat up but it will also make the cleanup process easier.
The last, and most important, tip is to remember to have fun! Don't let the stress of hosting ruin the magic of the holiday season. Happy Holidays Morado Plano residents!